Diane's plus size fashion blog
Aug 29th A Jump Suit suitable for Evening Wear and other Dressier Occasions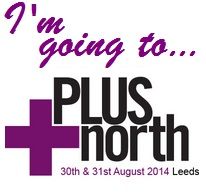 Jump Suit in monochrome trend worn by Diane Marshall, plus size fashion blogger for www.plussize.ie and plussize.co.uk.  I am also going to Plus North in Leeds on Saturday (30th August 2014).  I will be wearing this jumpsuit by Pink Clove so if you are also coming along feel free to come over and have a chat.
This week I am delighted to introduce you all to a new plus size retailer on www.plussize.ie.  Pink Clove offer a very affordable range of plus size clothing from a size UK16 - UK28.
I am seen in the picture wearing one of their jump suits (UK18) which is suitable for a smart and dressier occasion day wear look OR for Evening Wear.  This jump suit is available from a size UK16 - UK28 and costs just £21.  This truly is great value.
The jump suit is perhaps the easiest of all forms of dressing and offers the option of accessorising for a more dressier look.  As with all my blog postings on www.plussize.co.uk I am not wearing any make-up and have not styled this look with accessories so that you can get a true sense of the garment and it's colour and let your own imagination run wild with how you might style your look in this jump suit.
This particular jump suit is a jersey weight fabric so is easy to fold and pack in a suitcase.  I am flying to Leeds with hand luggage only.  I need 2 looks (day wear and the Evening After Party).  I have decided to wear this jump suit at the main function on Saturday during the day and then I will wear a black dress to the Evening party.  I therefore only need to include the one pair of black heels to wear with both outfits.  I love it when efficiency meets style!
The jumpsuit is a very forgiving outfit and manages to flow over those curves with ease and less distraction that perhaps a dress might.  This jump suit has an elasticated waist area (joining the trousers to the top) which gives a wee bit more wiggle room.  The black trousers serve to minimise any problem with the bottom half of your body AND the wide legs are very complimentary, especially on ladies with larger thighs.  On the top the wrap style (cross over) V Neckline is very attractive and a neck lengthening feature whilst the fabric makes this top non bra cup specific.  I love the look.  This is very me - easy, simple yet smart.
To buy this jump suit click HERE
To view other jump suits in the range click HERE
Watch this video to hear me talk about the jump suit.

To look at the range at Pink Clove click HERE
Until next week.  Diane XXX
---------------------------------------------------------
August 21st - The Flared Skirt - A Wardrobe Staple and Season "Must Have"
Fully Lined Flared Skirt from the M&S Collection at Marks & Spencer
The Flared Skirt is going to feature bly in the forthcoming AW14 season and continue into SS15 as well.  Therefore, when I saw this skirt from the M&S Collection at Marks & Spencer I felt compelled to include it in my "Wardrobe Staples".
This skirt is fully lined and is available from a UK6 - UK20.  I think it is particularly good value at €34 and therefore a skirt that you will get loads of wear out of.  I am wearing size UK18.  I am 5'9" tall and as you can see the skirt is sitting just slightly below my knee area.  This skirt is therefore a suitable length for your "day wear" or "work wear" wardrobe.  It is a professional cut!
I am glad to see the flared skirt making a return.  It definitely will make a "statement impact" as a trend going forward from Autumn/Winter 2014 into Spring/Summer 2015.  This skirt is a standard black flare cut.  It is not over exaggerated.  It is simple and easy to wear and will suit the curvy woman.
There is a certain vintage appeal to this style of skirt.  It is also simple to style. You can wear any blouse or fine knit top with this skirt.  The waist area on this skirt does not have a defined waistband so this also means that you can wear blouses/tops that sit out over the top of the skirt and not have the added bulk that sometimes happens with thick set waistbands.
In this picture I have styled my look for a simple "day wear" or "work wear" look AND I am wearing a lower block heel style shoe for all day comfort.  This skirt however can be "glammed up" for a more dressier look and also looks fantastic with higher heels.  There is just something special about the swish and sway of a flared skirt when you walk.  You can walk tall and be more in command of your step in this style of skirt.
Below is a picture of me wearing this skirt for a smarter dressier occasion.  My blouse has a waistband and therefore needs to sit out over a skirt or trousers.  I think that it sits well with this skirt.  As there is not a defined waistband on the skirt there is not the added bulk of the waistband AND the band of the blouse to contend with.
To buy this skirt Click HERE
To hear what I have to say about this skirt and to see the movement in the skirt have a look at this short video from my PlusSize.co.uk website

To buy this skirt click HERE
Until next week.  Diane xxx
----------------------
Aug 15th - Wardrobe staples - The Fine Knit Cardigan from the M&S Collection, available up to a UK24
The fine knit cardigan is such a versatile addition to your wardrobe and an essential for trans-seasonal wear.  I found this little gem of a cardigan from the M&S Collection at Marks & Spencer and consider it a bargain at only €22.
I like easy.  I like NO fuss, simple and to the point.  There is nothing that says all this quite like the fine knit cardigan.  With a fine knit you have the stream-lined elegance of a garment that flows over those curves and flatters.  This little cardigan is simple in design yet has the elegance of a vintage look (especially with the pearlised effect buttons).  The neutral colour is always going to be an easy one to mix and match with your existing wardrobe pallet AND the fine texture makes this also an easy piece to wear with either skirts or trousers.  Your look can either be casual, smart casual or more formal.  In warmer days it can be worn with other cool summer creams and beiges, in the Autumn with a neck scarf and darker and more autumnal colours, whilst in Winter worn with heavier garments.  This cardigan can easily be worn with a thermal camisole vest underneath for added warmth without adding bulk to your overall look.  This cardigan is therefore a trans-seasonal cardigan and a wardrobe essential.
To buy the cardigan click HERE
Watch this video to hear what I have to say about this cardigan

Here are some more looks to show how versatile and what an essential wardrobe staple this cardigan can be for trans-seasonal wear.
To buy the cardigan click HERE
Next Monday and Wednesday you can see 2 Featured Product Posts on another wardrobe staple at my PlusSize.co.uk website.  Diane xxx
---------------------------------------
Aug 7th - David Emanuel, Royal Wedding Dress Designer, designs an exclusive Collection for Bonmarche
A very affordable and fantastic quality design Collection by David Emanuel has been launched at Bonmarche.  The Collection includes dresses, tops, trousers, jeans, coats and jackets in the size range UK10 - UK24.
I love to be able to bring good news stories to my readers and especially if that story also means exceptional value for money.  David Emanuel (who along with his then wife Elizabeth Emanuel) designed the Wedding Dress of the Late Princess of Wales, Princess Diana, has now launched an exclusive Collection at Bonmarche.
The dress that I am wearing is a jersey floral wrap dress and is fully lined. The dress has now sold out BUT there are similar dresses currently available and of the same exceptional value and quality.  Read on below and I will present 2 other alternatives to this dress.
I always prefer to buy dresses that have been lined especially as the dress sits better AND it avoids having to buy a petticoat that is the correct length and that fits and contours well with the dress too (NO PUCKERING).  This dress does this beautifully.  The lining moves with the dress and does not have a mind of its own so there is not the puckering that you often get with wearing a petticoat (which is separate from the dress) underneath.  It feels very good on and is true to fit.  I am wearing a size UK18.  I am therefore not surprised that this dress has now sold out and that all the new stock is very quickly selling out too  My advice to you is to plan ahead NOW.  If you have an occasion coming up soon buy now as the item of clothing that you want may not be available.  With this quality and at these prices the word is now out!
It is important to showcase this dress to you so that you get a sense of the design and overall quality of fit.  If you like this dress you can expect similar high standards with other dresses in the Collection
View this video to hear what I have to say about this dress and The David Emanuel Collection at Bonmarche

Here are 2 other very similar wrap dresses that are currently available from The David Emanuel Collection at Bonmarche
I love this V Neck and half sleeve floral jersey wrap dress.  This dress is also fully lined and is £30.  The dress is available from a UK10 - UK24
This is a wonderful alternative to the dress that I am wearing and is my overall favourite because it has the V Neckline and half sleeves.  With this particular shape of dress I feel that I would be able to minimise my middle area more because of the attention NOT being concentrated just on the side gathering (as is the case with the dress that I am wearing).  The V Neck (especially with my rounder shaped face) is more flattering and the distance created between my jawline and the cleavage makes this a more flattering cut for me.  Also the longer sleeves (from the cap to the half sleeve) further help to draw attention to the shaping at the waistline.  With this cut of dress I would have 3 main features (neckline, sleeveline and waistline) to create the correct shape on me for that all important curve appeal.

This is the right shape of dress for women with
- problem middle areas
- problem upper arms OR
- wanting to achieve an improved or better defined bustline (if you have a larger bust consider the next dress with a higher neckline)
To buy this dress £30 click HERE
This is another floral wrap dress creation by David Emanuel with a cap sleeve and round neckline.  This cut of dress is particularly a good shape for ladies with larger busts who want to minimise their bustline.  The wrap style will help to create a more profiled waistline area too.
This dress is now on sale at £19 and is currently available in a UK10 and a UK22 only.
To buy this dress click HERE
As with all my blog postings on www.plussize.ie and www.plussize.co.uk I present the items of clothing to you just as I am and not wearing any make-up.  I feel that it is important that you can assess the true colour of the garment and, more importantly, get a sense of the garment against a natural skin tone.  The photography in print catalogues and on websites is professionally created using a model and a team of Creatives to get the perfect picture and to present the garment in the best possible light.  I hope that if you like my natural approach you will be more inclined to buy that product especially when you know how you can work your own magic with your hair styling and make-up.
In today's blog post the only make-up that I am wearing is a lip gloss and nail polish by David Emanuel.  David Emanuel will launch very soon (on the Bonmarche website) his new cosmetics collection.  Not being someone who wears a lot of make-up or bothers with painting my nails this is a new addition to my presentation.  I have to say that I love the nail polish.  My youngest daughter (15 yrs) painted my nails.  It went on very smoothly and dried quite quickly.  This would definitely make me rethink wearing nail polish again.  It really is not that fussy a thing to do with the right product.
I hope you have been inspired by this week's blog post and have been given that all important 'heads up' in terms of where to go to buy affordable, on trend, and quality clothing.  I was very impressed with the dress that I have just reviewed and the other products that I have viewed.  I highly recommend The David Emanuel Collection at Bonmarche and hope that I can bring you more timely information about additions to the Collection as and when it happens.  With The David Emanuel Collection you can be both budget and style conscious.  There is no compromise with this Collection.  Quality, Affordablility, Style and Fit ready for the taking at Bonmarche.
To view The David Emanuel Collection at Bonmarche click HERE
-----------------------------------------------------------------------------
Aug 2nd - "Road Test" of the Leanne Shoes on a 4 day city break to Berlin
I have just returned from a 4 day city break to Berlin where I took the opportunity to "road test" the Leanne Shoes from the Active Wear Range at Hotter Shoes.  These shoes are designed for foot and leg comfort and are the perfect shoes for wearing all day.
Hear what I have to say about these Shoes
To buy the Shoes click HERE
A City Break holiday involves a lot of walking and exploring.  It is vital that you have the right footwear for that all important "all day comfort".  Cities mean walking on hard surfaces such as concrete, tarmac, paving and other tiled or industrial style designed surfaces.  Walking on hard surfaces for long periods of time is very tiring and can be damaging to your feet.  It is therefore vital that you plan to wear the correct shoes to give you both foot bed and arch support.
I can highly recommend the Leanne Shoes (which are part of the Active Wear Range at Hotter Shoes) for that all important foot comfort and support.  I had 4 full days in Berlin where I was on my feet and out and about for upwards of 8+ hours per day.  My number one priority was to wear a pair of shoes for comfort.  These shoes have my mark of approval.
Here are a few photos of me in Berlin showing typical examples of the types of hard surfaces that I encountered each and every day.
Whilst I came home tired after my 4 days of being on my feet all day at no point did I have any problems with my feet nor legs.
I am wearing these shoes in the white and grey combination but they are also available in beige, aqua, purple, and red.  The sale is still on at Hotter Shoes where these shoes are now £49 (with free delivery)
To buy the Leanne Shoes click HERE 
Hotter Shoes are also giving my viewers to this website 10% off the new season collection plus free delivery.  To avail of this offer use promo code PKCTEN

Until next week.  Diane xxx
July 29th - 4 Day City Break to Berlin
Today I am off on a 4 day City Break to Berlin.  I am travelling with hand luggage only so I have planned the most effective and efficient wardrobe possible for all eventualities.  The weather forecast over the next 4 days in Berlin ranges from 23 - 28 degrees Centigrade with thundery showers.  The weather is therefore going to be hot, sticky and wet.
My wardrobe has got to cope with all the variations that the days may bring. My colour theme is white (for coolness) and an easy colour to mix and match.  As I will have 4 full days in Berlin and I intend to be out and about all day in the City visiting all the sights and (hopefully) getting in a bit of retail therapy; I have chosen 3 easy and comfortable looks that are summer smart and city ready.  Last summer I spent 2 weeks in Paris and the surrounding area and I suffered greatly with aches and pains in my legs and feet.  This year I am forearmed and I will be wearing a pair of Hotter Shoes from their Active Wear Range for that all important "All Day Comfort". I am so confident that these shoes will do the job and look stylish with my clothes that I am going to do a "Road Test Blog" about them.  You can read all about what I will put these shoes through next week.
The dress sense in "the City" for a break is a smarter casual than at a holiday resort.  Remember when in "the city" you are trying to integrate in with people going about their daily lives and also anticipating what is appropriate to wear to different venues e.g. visiting cathedrals and/or shrines/monuments AND in many restaurants means having your shoulders covered and your skirt or shorts length to at least the knees. Planning a wardrobe also means getting your footwear right.  You need something comfortable AND that will easily blend in with your daily clothing ensemble.  Below are a few pictures of what I intend to wear and vary these looks so that I do not flout any dress code rules. I am wearing my white knee length skirt, my green city shorts, and my white cut off trousers.  Each day these items will be worn with a white tee-shirt or top.  When it gets cooler in the evenings I also have my white cotton cardigan and my neon bright jumper.
Last summer in Paris I had no option but to buy a pair of trainers.  My feet and legs were aching and my mules (which matched my white skirt (same skirt as in these pictures)) just looked some much better with the skirt than the trainers.  Whilst I had no alternative but to give in to comfort the vanity in me would not allow myself to wear these same trainers into a restaurant.  I changed out of the trainers and put my mules back on for the duration of my time in the restaurant.
This year not only have I found a pair of comfortable shoes for my all day comfort but the profile is slimmer on the foot and overall a better look than trainers.  Have a look at these photos to see if you agree.
Hotter Shoes are offering a special discount for my Readers.  See details below -
Please use promo Code - PKCTEN Offer - 10% off plus free delivery T and C - 10% off plus FREE delivery is for first orders only. You are entitled to 10% off the total order value of any full priced items in the Hotter range (excluding shoe care products) plus FREE delivery.  This offer cannot be used in conjunction with any other promotional offer or on Sale or Factory Clearance items and gift vouchers.
I can"t wait to explore Berlin.  See you next week and I will have all the details about how I got on in Berlin.
To view the full range of both sales stock and new stock at HOTTER SHOES click HERE
Diane xxx
--------------------------------------------------
August 2014 blogs, click here - Aug 29 Jump suit from Pink Clove, - Aug 21 Flared Skirt, Wardrobe staple. - Aug 15 Fine Knit Cardigan, Wardrobe staple. - Aug 7 David Emanuel at Bonmarche. - Aug 2 Road test of Leanne Shoes from Hotter.
July 2014 blogs, click here - July 29 Berlin Break, July 26 YOURS - Floral Maxi Dress, July 15 Woolovers Jumper around shoulders look, July 14 Woolovers City Look, July 13 Woolovers Casual Layered Look, July 12 Woolovers V-Necked Jumper - look #2, July 11 Woolovers Twin Set look, July 10 Woolovers Sleeveless Top, July 9 Woolovers V-Necked Jumper look #1
June 2014 blogs, click here - June 27 Suede Moccasin Shoes. June 20 Garden Party - Overlay Dress from Long Tall Sally. June 12 Aran Boyfriend Cardigan- Celtic & Co. June 5th Little Black Dress.
May 2014 blogs, click here May 22nd - The Return of the Trouser Suit. May 14th Agricultural Show or County Fair - Practical Styling Advice. May 7th M&S boot cut jeans May 1st Plus Size Revolution - money counts.
April 2014 blogs, click here -Apr.27th The Plus Size Revolution - Curves
take Centre Stage. Apr.20th Travel Clothes Apr.4th British Plus Size Fashion Week 2014 - Dynasty.
March 2014 blogs, click here - Mar 20th British Plus Size Fashion Week 2014 - Curvety. Mar 14th British Plus Size Fashion Week 2014 - Jane Watson.
Feb 2014 blogs, click here - Feb 27th British Plus Size Fashion Week 2014 - Dea. Feb 14th Diane Marshall Plus Size Model London Fashion Week. Feb 7th All weather fitness clothing
Jan. 2014 blogs, click here - Jan 30th London Fashion Week, plus size modelling opportunity. Jan 23rd Plus Size Acceptance vs Weight Loss. Jan 16th Plus Size Weight Loss - an expert approach. Jan 9th Plus Size, what size of fit are we describing?
2013 Blog Archive
June 15th 2013 - Welcome to my blog ! June 15th 2013 - Welcome to my blog !