Feb 26th Bold Orange Colour Striped Knitted Tunic Dress :- to plus-size UK24, from M&S Ireland
EXTRA CARE WARNING - DO NOT TUMBLE DRY !
Striped Knitted Tunic Dress - €60 - Available in sizes UK8 - UK24
After a sickness induced break, I'm back to 'nearly' normal. Today's dress comes from the Per Una Range at Marks and Spencer Ireland.  Usually I consider Per Una to be targetted at an older woman so imagine my surprise to find this tunic dress in a nice bold seasonal orange colour.
This is a half wool and half acrylic knitted tunic dress with broad stripe detailing throughout.  I am 5'9"tall and I am wearing size UK18 (which is true to fit).  The dress is available from a UK8 - UK24 and is priced at €60.
I'm drawn to this dress due to the tunic cut style (which is complimentary on women like myself who have a larger tummy) and the wide round neck line.  This is also a no fuss, easy care easy wear dress so it's ideal for day wear.
I love the casual feel and intend wearing this dress with slouchy cardigans, big treatment scarves, opaque tights, and boots.
In the photo I am wearing the dress with black opaques and boots.  This dress will also look great worn with green, wine, brown and also navy (all with the relevant coloured boots and opaques).  You are not limited with this orange colour.
In the video below, I show the dress off in greater detail and point out the features.

To buy the dress click HERE
To view the new SS15 Collection from Per Una click HERE 
AGAIN I MUST STRESS - DO NOT TUMBLE DRY THIS DRESS.  It's not recommended as it will cause the wool in the dress to shrink. Wash on a delicate wool cycle, spin and hang up on a clothes hanger to dry, somewhere where it can dry naturally. (e.g. with the hanger suspended from a clothes horse )
A slight variation - Knitted Tunic Dress worn with a scarf for a relaxed day wear look
Until next week.  Diane XXX
----------------------------------------------------------
Feb. 2nd. Operation Transformation inspiration (despite the snow and cold) - Affordable Fitness Clothing from Marks & Spencer Ireland
Separates from the M&S Fitness Range at M&S Collection for Marks & Spencer Ireland - Available from sizes UK8 - UK22
January is a great time to kick start a new health and fitness regime (especially if you've put on a bit of weight at Xmas).  New Year, New You !!!
It is also hard to escape the media campaigns about getting fit, reducing one's waistline and avoiding health issues associated with obesity. At present Operation Transformation is on both radio and TV. We can't disagree either with the growing amount of medical evidence. Obesity in itself is a major problem. That said, what I have found most interesting is recent coverage in the UK Press which suggests that inactivity is an even greater threat to health and well being than being obese. Being obese really becomes a problem if you are inactive and unfit.
So my belated new year's resolution for 2015 is to improve my overall fitness and thus increase my activity levels. I'm also going to try to get my husband Brian away from the computer to take more exercise.
Like most working mothers large amounts of my daily routine are sedentary.  I drive to work, sit at a computer and/or stand in front of a class of students and then drive home again.  In between times I also do the usual driving runs with my teenage girls to take them to and from other activities outside of school.  When I come home in the evenings I get the family dinner made and then sit again, either in front of a computer or occasionally in front of the TV if I have time.).
Latest research says that 20 mins of good exercise per day is all that is required to maintain a general level of fitness and increase your healthy lifespan by several years.
We are now in February, and for many the new year resolutions have started to wane.  I am struggling but I am determined to keep up with my desire for change.  I am not doing anything radical.  Brian and I try to get a 20 mins walk every evening (rain, hail or snow).  I also have joined a weekly Zumba class . I think that I am more likely to succeed by making small changes rather than attempting anything more radical.
I have been impressed with the new Fitness Range of Clothing from the M&S Collection at Marks & Spencer Ireland.  I find all the pieces affordable and very practical.  There are many separates that you can buy to mix and match your entire ensemble. The range I'm wearing also has cool comfort technology which is a registered trade mark of M&S.  This means that all of these items allow your skin to breath and cool down whilst exercising.  You do not get sweat staining on the garments and at all times you feel cool in them.
Have a look at the video below to see more details of the separates.

In the video I am wearing the following items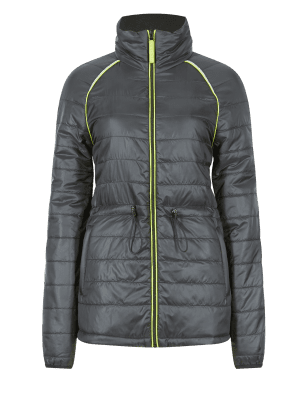 Thinsulate Padded Jacket with storm wear - €80 - To buy click HERE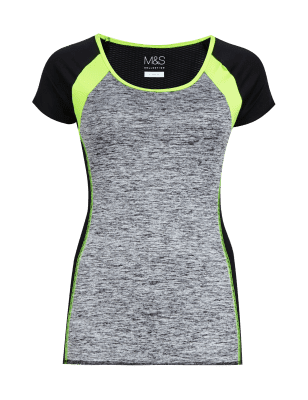 High Impact Active Colour Block T-Shirt with Cool Comfort Technology - €24 - To buy click HERE

Reflective Cropped Leggings with cool comfort technology - €30 - To buy click HERE
And finally here are a few pics of me wearing 2 other tops which are all part of the separates which can be mixed and matched within this range
Bright Green top and grey leggings part of the M&S Collection - €22
Quick Dry Scoop Neck T-Shirt with cool comfort technology To buy click HERE
Vest Top with Cool Comfort Technology - Available to size UK22 - €24
Colour Block Marl Vest Top with cool comfort technology - To buy click HERE
Until Next Week.  Diane XXX
--------------------
Jan. 2015 blogs, click here - Jan 24th What to wear skiing.
Dec. 2014 blogs, click here - Dec 12th Half Length Black Leather Sheepskin Coat in Contemporary Design - Celtic & Co. - Dec 6th Wonderful Toscana Sheepskin Full Length Hooded Coat in Chocolate Brown - Celtic & Co.
November 2014 blogs, click here - Nov 27th Down and Feather Coat. Long Tall Sally. - Nov 20th Curvety Casual and Evening wear #4 - Nov 19th Curvety Casual and Evening wear #3 - Nov 18th Curvety Casual and Party wear #2 - Nov 15th Curvety Casual and Party wear #1
October 2014 blogs, click here - Oct 30th How to wear Tweed, part 1. - Oct 24th M&S Waist Cincher Knickers for tummy control. - Oct 16th Lipstick Boutique at House of Fraser - Oct 2nd Ann Harvey at Bonmarche
September 2014 blogs, click here - Sept. 25th Curvety Special Occasion dress - 19th Dickins and Jones Day Wear - 14th Yours Blouse - 4th Debenhams Tea Dress.
August 2014 blogs, click here - Aug 29th Jump suit from Pink Clove, - 21st Flared Skirt, Wardrobe staple. - 15th Fine Knit Cardigan, Wardrobe staple. - 7th David Emanuel at Bonmarche. - 2nd Road test of Leanne Shoes from Hotter.
July 2014 blogs, click here - July 29th Berlin Break, - 26th YOURS - Floral Maxi Dress, 15th Woolovers Jumper around shoulders look, 14th Woolovers City Look, 13th Woolovers Casual Layered Look, 12th Woolovers V-Necked Jumper - look #2,- 11th Woolovers Twin Set look, 10th Woolovers Sleeveless Top, 9th Woolovers V-Necked Jumper look #1
June 2014 blogs, click here - June 27 Suede Moccasin Shoes. June 20 Garden Party - Overlay Dress from Long Tall Sally. June 12 Aran Boyfriend Cardigan- Celtic & Co. June 5th Little Black Dress.
May 2014 blogs, click here May 22nd - The Return of the Trouser Suit. May 14th Agricultural Show or County Fair - Practical Styling Advice. May 7th M&S boot cut jeans May 1st Plus Size Revolution - money counts.
April 2014 blogs, click here -Apr.27th The Plus Size Revolution - Curves
take Centre Stage. Apr.20th Travel Clothes Apr.4th British Plus Size Fashion Week 2014 - Dynasty.
March 2014 blogs, click here - Mar 20th British Plus Size Fashion Week 2014 - Curvety. Mar 14th British Plus Size Fashion Week 2014 - Jane Watson.
Feb 2014 blogs, click here - Feb 27th British Plus Size Fashion Week 2014 - Dea. Feb 14th Diane Marshall Plus Size Model London Fashion Week. Feb 7th All weather fitness clothing
Jan. 2014 blogs, click here - Jan 30th London Fashion Week, plus size modelling opportunity. Jan 23rd Plus Size Acceptance vs Weight Loss. Jan 16th Plus Size Weight Loss - an expert approach. Jan 9th Plus Size, what size of fit are we describing?
2013 Blog Archive
June 15th 2013 - Welcome to my blog ! June 15th 2013 - Welcome to my blog !